Fanboy Wrestletronic: WWE Extreme Rules 2021
So... it's been a month in wrestling, hasn't it?
While we didn't get around to previewing and fantasy booking AEW All Out 2021, we were able to screen the show in the Quixo offices and man was that a fun show. Miro and Eddie Kingston was a great match to start the show with, the surprise appearance of Minoru Suzuki, the cage match between the Lucha Brothers and the Young Bucks was easily a 5 star match, and the CM Punk and Christian both indeed still got it. Plus, the debut of Ruby Soho, Adam Cole, and Bryan Danielson? Holy shit guys, that was a show. Well worth using company funds to purchase.
And then the fact that this happened two weeks later?
Stunning. Everyone, get yourself TNT (or soon TBS) in some way and check it out.
Oh yeah, and then there's wrestling on USA and FOX. First, the good: Raw and NXT (2.0) now have excellent new champions! Bobby Lashley and Samoa Joe served their (varying lengths of) time as champions well, but it's great to see Big E finally getting the nod and Tommaso Ciampa finally getting to hold Goldie again.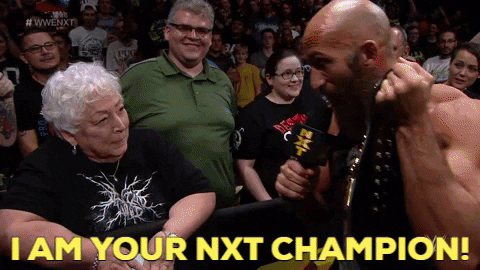 With Big E back with the New Day, its easy to say hey, let's have the New Day feud! And really? I think it could be done since that would be one of the matches on my fourth and final Quixo-Fantasy WrestleMania 38 using the previous Quixo-WWE continuity of this roster. If I don't write it, essentially I would have had Big E drafted to Raw anyway (he didn't have the briefcase since he main evented WrestleMania 37 in our Quixo-timeline). Then, as has been done before, Kofi Kingston would shock defeat Lashley for the WWE World title the week before Survivor Series (as AJ Styles and Daniel Bryan did to Jinder Mahal and... oh, AJ Styles before) to have a Kofi/Roman match. After that, to make it different than his first run, Kofi would offer to let Xavier and Big defend the title under New Day rules, but that would cause the other two to start thinking maybe Kofi isn't respecting the title. Team titles are different, but this is the WWE World title. Woods and E both still do get a chance to defend on a Raw each, but its obvious they are uncomfortable about losing Kofi's title. So yadda yadda yadda, they end up in a three-way elimination match at WrestleMania 38. Woods pins Kofi first to eliminate the champion, and E pins Woods to win the title. Any disagreements are immediately forgiven and they party in the ring as they did in real life. Because in Quixo-WWE, the New Day's story is about family. Unlike the story of Roman Reigns and his Family. That's the tragedy to the New Day's comedy. But that, dear reader, is a tale for another time. And if I do write up the last piece, act surprised about the New Day match, right?
Let's check in with the results from the latest round of the all-new all-different Quixotronic Wrestling Shame Challenge!
Previously on Fanboy Wrestletronic…
Standings going into WWE SummerSlam 2021, NXT Takeover 36, and AEW All Out 2021 :
1st Place: Kyle 81.3% (26-6)
2nd Place: Tim 64.5% (20-11)
3rd Place: Ryan 48.4% (15-16)
4th Place: Andy 41.9% (13-18)
WWE SummerSlam 2021 results :
Baron Corbin vs Big E
Your Winner : Big E
Andy: n/a (0-0)
Kyle: n/a (0-0)
Ryan: n/a (0-0)
Tim: n/a (0-0)
WWE Raw Tag Team Titles Match : Matt Riddle & Randy Orton vs AJ Styles & Omos ©
Your Winners, and NEW WWE Raw Tag Team Champions : Matt Riddle & Randy Orton
Andy: AJ Styles & Omos (0-1)
Kyle: Matt Riddle & Randy Orton (1-0)
Ryan: Matt Riddle & Randy Orton (1-0)
Tim: Matt Riddle & Randy Orton (1-0)
Alexa Bliss vs Eva Marie
Your Winner : Alexa Bliss
Andy: Alexa Bliss (1-1)
Kyle: Alexa Bliss (2-0)
Ryan: Eva Marie (1-1)
Tim: Alexa Bliss (2-0)
WWE United States Title Match : Damian Priest vs Sheamus ©
Your Winner, and NEW WWE United States Champion : Damian Priest
Andy: Damian Priest (2-1)
Kyle: Damian Priest (3-0)
Ryan: Sheamus (1-2)
Tim: Damian Priest (3-0)
WWE Smackdown Tag Team Titles Match : Dominik & Rey Mysterio vs The Usos (Jey & Jimmy Uso) ©
Your Winners, and STILL WWE Smackdown Tag Team Champions : The Usos
Andy: Los Mysterios (2-2)
Kyle: Los Mysterios (3-1)
Ryan: Usos (2-2)
Tim: Usos (4-0)
WWE Smackdown Women's Title Match : Becky Lynch vs Bianca Belair ©
Your Winner, and NEW WWE Smackdown Women's Champion : Becky Lynch
Andy: n/a (2-2)
Kyle: n/a (3-1)
Ryan: n/a (2-2)
Tim: n/a (4-0)
Drew McIntyre vs Jinder Mahal
Your Winner : Drew McIntyre
Andy: Drew McIntyre (3-2)
Kyle: Jinder Mahal (3-2)
Ryan: Jinder Mahal (2-3)
Tim: Drew McIntyre (5-0)
WWE Raw Women's Title Match : Charlotte Flair vs Rhea Ripley vs Nikki ASH